We participated in and finished the Marine Corps Marathon, the Bataan Memorial Death March, Climb For A Calling, the Suck It Up Ruck, the Watermelon Run For The Fallen, The 1Lt Robbie Welch Run, The Riley Run, The Heroes Race, The Warm Place Run, The CW2 Jennifer Hunter Running Free race, Fort Campbell Run For the Fallen, Carry The Load, and a few others, all of them more than once.
I'm 62 freakin' years old. We never trained for any of that before five or six years ago. But we did it.
A few weeks ago, we participated in the 22-mile Red Dirt Military Moms Warrior Walk Against Veteran Suicide, started by our good friend and No Slack veteran, Bob Evans and his family Eva Turner and Pat Apperson. Beth and I first met Bob at a screening for The Hornet's Nest in Oklahoma City back in 2013. I remember walking into the reception for the film and this tall, handsome, tattooed soldier comes charging at me. He embraced me, told me how much he had admired Sgt. Burgess and how pleased he was to finally meet Bryan's family. Bob is now "family."
Bob organized his first 22-mile ruck for the 22 Veteran Suicides per day in 2014 at Boomer Lake in Stillwater, Oklahoma.
Bob himself has been in the danger zone. And I'm not talking about Iraq or Afghanistan. I'm talking about here at home in the good old USA. I won't go into any details because that is Bob's life and his business. If you know him, you probably know his struggles. My point is that he DID something positive and created a lasting tribute and awareness-raising event for a problem that is claiming lives at an alarming rate far above the quoted "national average."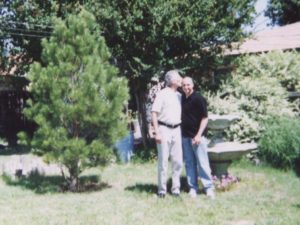 Less than a year ago I was feeling a need to push myself to the point of punishment. I didn't care if I fell from heat exhaustion or sprained joints. I had a sense of needing to pay penance for Bryan's death. Call it reconciliation, forgiveness, pigheaded, or whatever you want, I pushed myself to the breaking point. And you know what happened?
I got stronger.
Not just my leg muscles, or my lungs, or my heart, but my spirit, too. Many of you know that I am not a religious man. I am, however, a spiritual man thanks to Bryan's visitation on the morning of his death. A strong spirit can belong to anyone from a warrior to an athlete to a business-person, to a grieving parent.
Bob Evans has a strong spirit. Elisabeth Burgess has a strong spirit. My son, Bryan Burgess IS a strong spirit. My strong spirit comes from each of them, and many others like them who will not let me fall or fail.
I am no one special. I'm just plain ol' Terry. And I carry my son.